ABC & Stephanopoulos Caught Red Handed Disguising 'Undecided Voters' In Trump Town Hall
During President Trump's town hall event on ABC hosted by, George Stephanopoulos multiple voters were disguised as "uncommitted voters." However, it has been discovered that ABC mischaracterized the voters that asked loaded biased questions during the event.
ABC News claimed that the town hall "provided uncommitted voters the opportunity to ask the president questions about issues affecting Americans," a social media review conducted by the Washington Free Beacon told a different story.
ABC claimed that Ellesia Blaque, Kutztown University professor was an "uncommitted" voter during the town hall however, she's Kamala Harris supporter. In a Twitter post dated January 28, 2019, Blaque celebrated Kamala's announcement and that she would be "volunteering."
The English professor also posted several statements claiming President Trump was a "f**king moron," "pathetic," "pig," "swine," "punk-ass," and "LOOSER" (sic) in a slew of 2019 tweets. She is a self-described "liberal Democrat," according to her Facebook profile, on the grounds that liberals "are not motivated by money or power, but by humanity and the needs of the people."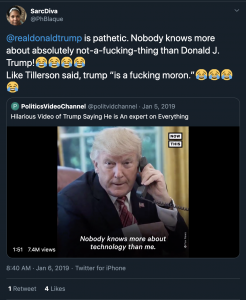 Are next "uncommitted" voter is Philadelphia pastor Carl Day, who posted on August 11, 2020 (just weeks before the town hall) that he's "never once supported trump and won't now."
During the town hall he challenged the President's over his campaign's Make America Great Again slogan which he has referred to several times on social media. According to Day, MAGA refers to a time when "the n*****s did what they were told in all industries, wouldn't have the audacity to try to enter a white establishment and didn't talk back to the cops." The pastor has also called Trump a "villain," claiming he's "ridiculously arrogant & obnoxious," and said he "ain't no Christian" in posts spanning from 2015 to 2019.
ABC told the Free Beacon that voters were "all identified to [the network] as uncommitted." The network didn't mention if they were vetted before the town hall.
Later Professor Blaque gave an interview on MSNBC and said that she "really did go [to the town hall] with an open mind," adding that she "decided to bite the bullet and vote for Biden" after the event. If you looked in the background during her interview there was a picture of Michelle Obama's photo book and she admitted she watches Joy Reid "every night."
Blaque also used her five minutes of fame to write an opinion piece for CNN to explain her decision to vote for Biden and gave an interview with Don Lemon.