The Swamp: Romney, Hunter Biden, And Burisma Connection Discovered
Romney is just full of surprises.
Senator Romney's conviction vote is starting to make a lot of sense and it had nothing to do with honor and integrity as he claimed, his vote was about power, money, and influence.
Way back in 2011 a top adviser to Mitt Romney, Joseph Cofer Black, joined Burisma's board of directors while Hunter Biden was serving on Burisma's board.
Erille Davidson of The Federalist reports:
According to The New Yorker, Hunter joined Burisma's board in April of 2014 and remained on it until he declined to renew his position this past May. Meanwhile, according to Burisma's website, Black was appointed in February of 2017 and continues to serve on its board. The timelines would indicate that Black and Biden worked together at Burisma. Below is a picture of a web archive of the Burisma homepage showing Black and Biden on the board of directors. If you click on the picture it will take you to the web archive.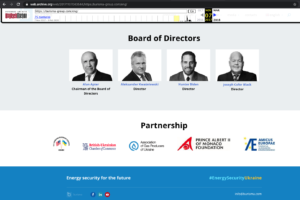 Black has been around a long time serving as the director of the National Counterterrorism Center. George W. Bush appointed him ambassador at large and coordinator for counterterrorism, then Black served as a "special adviser" on Romney's Foreign Policy and National Security Advisory Team In October of 2011.
This means that in the fall leading up to the 2012 presidential election Romney's foreign policy advisor ended up on the board of Burisma working with the current Vice Presidents son.
When it was announced that Black had joined Burisma's board Ukrainian news asked:
"In Ukraine, there have been some rumors surrounding Burisma Group, due to the comments from certain politicians and activists. What can you say? How do you plan to deal with this?"

Ukraine remains the Burisma Group's strategic market and is a key element of its business strategy. It is here in Ukraine where Burisma plans to deepen its investment bringing more jobs, increased economic strength and more revenue to the state. I believe Burisma's economic expansion will help Ukraine's economy and improve Ukraine's energy security. I will do all that I can to work with leaders and decision-makers and those trying to influence them of the positive impact a privately held energy company like Burisma can have on Ukraine.

In the U.S., privately held energy companies play an important and positive role in economic development in key states like Louisiana, Texas, and North and South Dakota.  While elements of civil society may question the growth of some energy companies, I believe they should do so in a lawful manner and ensuring accusations are based on facts and evidence rather than rumor or innuendo," Black responded.
Romney is a slimy swamp creature and Utah needs to figure out how to recall this guy.