School Curriculum Leaked, Hope You Like The Neo-Marxist Lesson Plans…This Is Why Teachers Are Worried Parents Will Listen To Their Virtual Classes
The State of New York's curriculum for the "Week of Action" was leaked online with lesson plans and supplemental material. The Week of Action is being defined as, "a national uprising that affirms the lives of Black students, teachers and families. This week centers classroom lessons about structural racism, intersectional Black identities, Black history, and anti-racism through the 13 Guiding Principles from the Black Lives Matter movement. "
This curriculum is being promoted by the big teacher's unions in New York to be adopted by the entire state. This curriculum is being used by teachers in New York. These lessons and one like them are why teachers are concerned about "spectators" listening to them since school will be virtual this fall.
Have a look at this. https://t.co/FYgWQC79ua

— James Lindsay, has a massive… evil following (@ConceptualJames) August 11, 2020
Yes in one week your elementary school-aged child will learn everything they need to know to become a social justice warrior with these 12 "mini-lessons."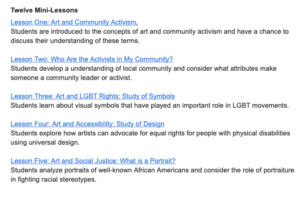 Oh, but just you wait, there is so much more…
This was perhaps my favorite lesson because action week is supposed to be about becoming a social justice warrior for oppressed minorities right? WRONG!
It's also to support your local fascist teacher's union.
In one of the lessons, elementary school kids are to role play teacher's going on strike. The lesson instructs teachers as follows:
You may want to pair this activity with our lesson Why Did LA Teachers Go on Strike, which invites students to learn about and discuss some of the issues surrounding the January 2019 strike by teachers in Los Angeles.

…

This roleplay introduces students experientially to the concept of a strike, including some of its risks and benefits. You as teacher play the role of district superintendent and students play the role of teachers. By having to make decisions about whether to strike, and by defending their reasoning, students will better understand the risks and benefits of the choice to strike, both for the teachers themselves and for the school district as a whole.

…

The roleplay ends with a debrief that is, in some ways, the most crucial part of the lesson. In the debrief, you will encourage students to step back and reflect instead on how public education faces larger systemic issues. Be sure to leave plenty of time for the debrief; students are often eager to explain their choices and question others about theirs.
Keep in mind this lesson is for elementary school-aged kids and I'm only scratching the surface.
How about this lesson designed for grades K-5 on how art and LGBTQ rights and compares the quest of the LGBTQ community to the Jewish Holocaust during World War II. Below are screenshots of the lesson:
Also provided in the state of New York's 2020 curriculum resource guide is these wonderful coloring pages for pre-kindergarten students:
In high school students will be equipped with the "#TrayvonTaughtMe" toolkit, "digital campaign highlights the beginnings of the BlackLives Matter movement, and how Trayvon's extrajudicial murder and his family commitment to ending gun violence and strengthening communities catalyzed a generation of organizers and activists to take action for Black lives."
The toolkit provides students with posts they can place on social media to remember Trayvon Martin and demand "state-sanctioned violence." You are also provided with Snapchat/Facebook live video scripts.
Like I said I am only scratching the surface. I firmly believe in equality and that people should be judged on the content of their character, not of their skin, gender, or sexual preference. However, what the state of New York has produced is not curriculum on equality it's manipulating children into becoming woke, social justice, zombies. As I looked through the piles and piles of anti-racist critical theory curriculum not once did I see the simple principle…treat others the way you want to be treated.