Teachers Union President Humiliating Gaffe Is A Shining Example Of How They Have FAILED Our Children
The largest teachers union in the nation has found itself in the middle of a controversy that is a shining example for school choice.
Randi Weingarten, president of the American Federation of teachers committed a social media blunder that explains why American children in public schools are struggling.
Weingarten is the same union president that fought to keep schools closed, keep kids masked, and is pushing CRT curriculum.
In a now-deleted tweet, Weingarten was virtue signaling showing her support for Ukraine when she made an embarrassing spelling error.
"We #StandWithUkriane," the union president posted then quickly deleted after she realized she spelled Ukraine wrong.
But that wasn't the only screw-up.
Apparently, Weingarten also struggles with geography.
The day before, Weingarten was seen in a picture promoting an AFL-CIO post with the Ukrainian flag upside down. The American Federation of Teachers is part of the AFL-CIO.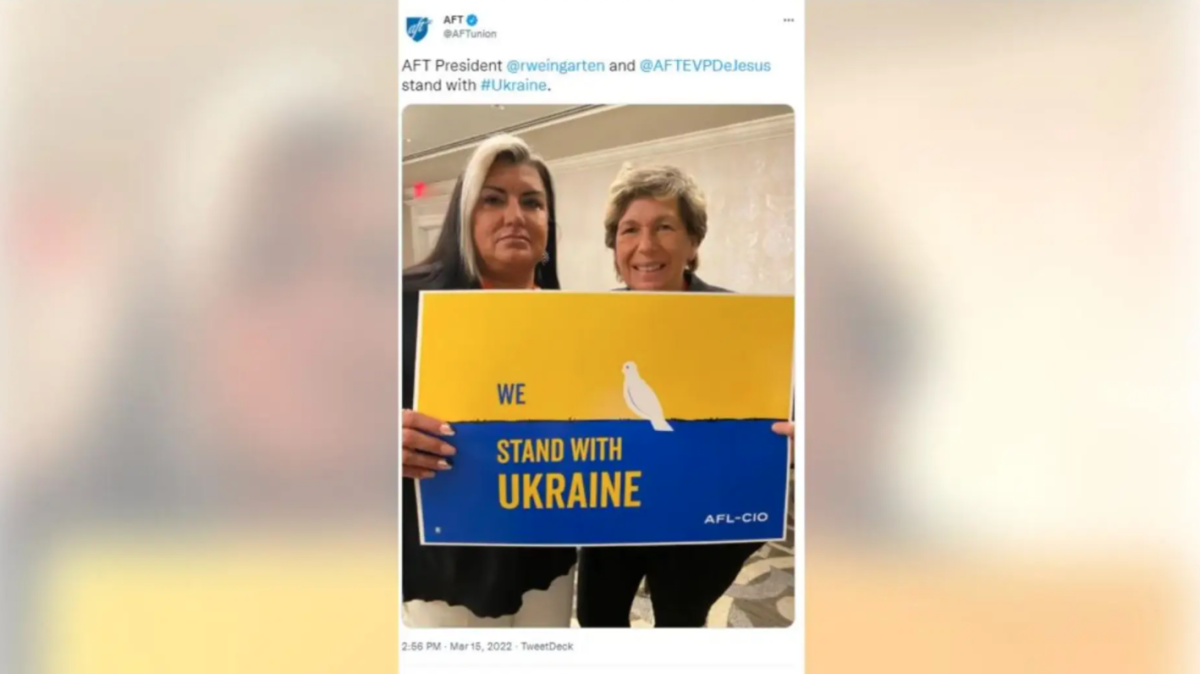 Alas, the teachers union may also want to take an art class as well.
Conservative Matt Whitlock pointed out the AFL-CIO tried to photoshop the images but in the end deleted everything hoping no one would notice.
The @AFLCIO has now deleted their photoshopped "stand with Ukraine" photo.

Join me on a journey.

5 PM – post photo with "Stand with Ukraine" posters

Get dragged for upside down Ukrainian flags

10 PM – post new image with signs photoshopped (poorly)

9:30 AM delete pic.twitter.com/8D7B6hPN4R

— Matt Whitlock (@mattdizwhitlock) March 16, 2022
Just incredible stuff here when you look closely. pic.twitter.com/vcEhus1dOG

— Matt Whitlock (@mattdizwhitlock) March 16, 2022
These are the "experts" that the Democrats tell us should be able to override what parents think is best.
Corey DeAngelis said that the gaffe was, "free advertising for school choice."
Look a spelling error is one thing (you guys know I make them all the time) but an entire organization screwing up a flag and falling on their face trying to cover it up is a whole other ball game.
Not one of the wizards of smart realized the flag was printed upside down?
Again, these are the people teaching your kids.