Video: Mike Huckabee Uses Some Powerful Language To Slam Sen. Romney's Use of Fake Twitter Account
On Monday things got rather exciting on the  "Fox and Friends" show that airs on Fox News. The former Governor of Arkansas Mike Huckabee strongly reacted to the news that Senator Mitt Romney (R-UT) has been using a fake Twitter account. 
Huckabee said that Romney (who is 72) is a US senator operating a fake twitter account is "stunning," and said it is "the work of kids, cowards, couch potatoes and perverts."
"The man's 72 years old," Huckabee emphasized. "Having fake Twitter accounts on social media, that's the work of kids, cowards, couch potatoes and perverts like Carlos Danger. What on Earth does a United States senator do calling himself Pierre Dilecto? If he's got something to say, man up and say it."
"Let us all realize that this guy is not a team player," he continued. "He's still bitter because Donald Trump got elected and he didn't. He needs to get over it."
The twitter handle is  Twitter user @qaws9876, otherwise known as Pierre Delecto.
Romeny made several posts celebrating himself and noting his resistance to President Trump: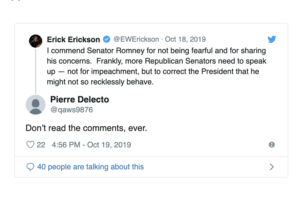 According to Slate Magazine:
Of the 257 tweets the account has liked over the last eight years, 30 of them came from the official @SenatorRomney account, 28 came from the official @MittRomney account, seven were tweets quoting either the @SenatoryRomney or @MittRomney accounts, and three included a direct mention of one or the other. Even more were about Romney generally without mentioning an official Twitter handle.
The Atlantic did contact Senator Romney who did admit the account is his, the account is now private and the tweets have been taken down.
On Sunday when Romney was asked about impeachment The Atlantic reported:
Romney told me that he does not have an abstract definition of "high crimes and misdemeanors," and that when it comes to identifying impeachable acts, he follows Supreme Court Justice Potter Stewart's famous standard for defining hard-core porn: "I'll know it when I see it." Asked if he's seen it yet, Romney told me that he'll make up his mind once he hears all the evidence at the trial: "At this stage, I am strenuously avoiding trying to make any judgment."

While he [Romney] acknowledges the failures of his own presidential campaign, he told me that he doubts Trump's electoral coalition will be replicable in the long run. "We have to get young people and Hispanics and African Americans to vote Republican," he said, adding that he hopes these voters will see his resistance to Trump as a sign that one day they could find a home in the GOP. If that seems naive, the senator is probably okay with it. In cynical times like these, someone has to serve as the guardian of lost causes.

After all, Romney said, "the president will not be the president forever."
You can watch Huckabee below: